Description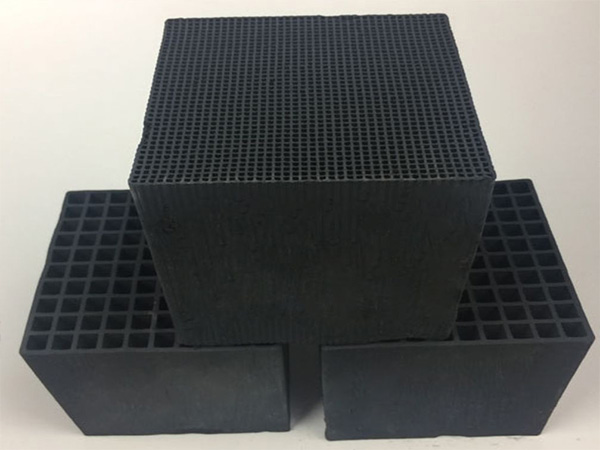 I. Overview
Honeycomb activated carbon, it is activated carbon made of 70% activated carbon, 17% sepiolite, 13% kaolin using ceramic process. That is, three raw materials are weighed, ball milled, sieved, stirred, mud pressed, mud refined, stale, mud refined, extruded, dried, calcined, inspected, packaged and put into storage. The activated carbon has water resistance, acid resistance, alkali resistance, strong With the advantages of high height and large specific surface area, it can be widely used in environmental protection, pharmaceutical, food and other industries and as a catalyst carrier.
2. Classification
Divided by shape:
Block activated carbon, square activated carbon, rectangular activated carbon, round honeycomb activated carbon
According to the use environment is divided into:
Ordinary honeycomb activated carbon, waterproof honeycomb activated carbon
Divided by use:
Small square activated carbon, activated carbon filter, ceramic filter, refrigerator deodorant activated carbon block, toilet deodorant activated carbon block, grilled fish deodorant activated carbon block, square hole honeycomb activated carbon, round hole honeycomb activated carbon, sponge activated carbon, air purification activated carbon, powder Activated carbon, gas phase honeycomb activated carbon, liquid phase honeycomb activated carbon, coal columnar carbon, mesh activated carbon, sheet activated carbon, oval activated carbon block, various shapes of activated carbon products can be customized according to customer requirements.
3. Use
Honeycomb activated carbon can be widely used in various gas purification equipment and waste gas treatment projects. Practice has proved that the purification effect is better than ordinary activated carbon. The pollutants that can be removed by honeycomb activated carbon to varying degrees are: nitrogen oxide, carbon tetrachloride, chlorine, benzene, ben, dimethyl quan, propyl dong, ethyl chun, ethyl mi, methanol, ethyl suan, ethyl ester, ben ethylene, Phosgene, odorous gas and other acid-base gases.
4. Instructions for use
It can be used directly or placed in a purification cabinet or adsorption bed. If the concentration of exhaust gas is high and the emission is large, two purification cabinets and adsorption beds can be used alternately. In the process of use, try to avoid too high temperature. Too high temperature will reduce the adsorption capacity, and the adsorption capacity will decrease with the increase of temperature; at the same time, avoid high dust content and oil mist, because the tar dust mist will block the micropores of activated carbon and increase the resistance. To reduce the adsorption effect, if the use environment contains a lot of dust and tar, a pre-stage dust removal filter should be installed to achieve better use effect and longer service life.
Product features: It is widely used in various organic waste gas purification systems with low concentration and large air volume. The treated exhaust gas can fully contact the activated carbon when passing through the square holes of the honeycomb activated carbon, the adsorption efficiency can reach 67.16%, the wind resistance coefficient is small, and it has excellent adsorption, desorption performance and aerodynamic performance. , dimethyl ben, ben, and other ben, feng, lipids, alcohols, aldehydes and other organic gases, malodorous gases and various gases containing trace metals. The environmental protection equipment adopted has high waste gas treatment and purification efficiency, small size of the adsorption bed, and low energy consumption of the equipment, which can reduce the construction cost and operating cost, and the purified gas meets the environmental protection emission requirements.